The James Beard Foundation Award nominees have been announced, and the foundation itself has just announced the date and location of the upcoming awards.
This is a time of great anticipation for the food industry.
As we all know, the James Beard Foundation is a non-profit organization dedicated to celebrating, nurturing, and honoring chefs and other leaders in the food and beverage industry in the United States.
One of the ways the foundation fulfills its mission is through the James Beard Awards, which are given out annually to recognize outstanding achievement in the culinary world.
Date of Awards
The date of the James Beard Awards ceremony varies from year to year, but it typically takes place in the spring. For 2023, the ceremony is scheduled for June 5th.
The event usually includes a dinner, entertainment, and a ceremony to announce the winners of each award category.
Location
The location of the James Beard Awards ceremony also varies from year to year.
This years 2023, it will be held at the Lyric Opera in Chicago.
In the past, the ceremony has been held in cities like New York, Chicago, and San Francisco.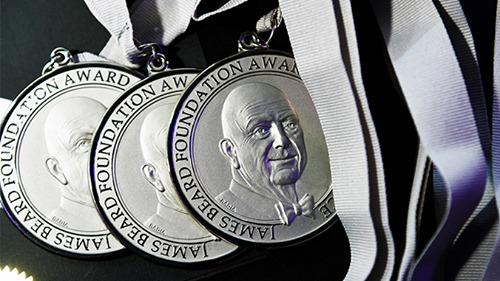 List of Nominees
Outstanding Chef
Rachel Miller, Nightshade Noodle Bar, Lynn, MA
Niki Nakayama, n/naka, Los Angeles, CA
Erik Ramirez, Llama Inn, Brooklyn, NY
Rob Rubba, Oyster Oyster, Washington, D.C.
Hajime Sato, Sozai, Clawson, MI
Outstanding Restaurant
Copine, Seattle, WA
Coracora, West Hartford, CT
Friday Saturday Sunday, Philadelphia, PA
Lucia, Dallas, TX
Mita's, Cincinnati, OH
Best New Restaurant
Causa, Washington, D.C.
Dept of Culture, New York, NY
Don Artemio Mexican Heritage, Fort Worth, TX
Kann, Portland, OR
Lupi & Iris, Milwaukee, WI
Neng Jr.'s, Asheville, NC
Nolia, Cincinnati, OH
Obélix, Chicago, IL
Restaurant Beatrice, Dallas, TX
Tatemó, Houston, TX
Emerging Chef
Damarr Brown, Virtue, Chicago, IL
Rashida Holmes, Bridgetown Roti, Los Angeles, CA
Serigne Mbaye, Dakar NOLA, New Orleans, LA
Charlie Mitchell, Clover Hill, Brooklyn, NY
Amanda Shulman, Her Place Supper Club, Philadelphia, PA
Outstanding Bakery
Angelo Brocato Ice Cream & Confectionery, New Orleans, LA
La Casita Bakeshop, Richardson, TX
Kuluntu Bakery, Dallas, TX
Yoli Tortilleria, Kansas City, MO
Zak the Baker, Miami, FL
Outstanding Pastry Chef or Baker
Veronika Gerasimova, Veronika's Pastry Shop, Billings, MT
Elaine Uykimpang Bentz, Café Mochiko, Cincinnati, OH
Vince Bugtong, ABACA, San Francisco, CA
Margarita Manzke, République, Los Angeles, CA
Shawn McKenzie, Café Cerés, Minneapolis, MN
Best Chefs
Best Chef: California
Gilberto Cetina Jr., Holbox, Los Angeles, CA
Kyle and Katina Connaughton, SingleThread, Healdsburg, CA
Brandon Hayato Go, Hayato, Los Angeles, CA
Justin Pichetrungsi, Anajak Thai, Sherman Oaks, CA
Carlos Salgado, Taco María, Costa Mesa, CA
Best Chef: Great Lakes (IL, IN, MI, OH)
Omar Anani, Saffron De Twah, Detroit, MI
Diana Dávila, Mi Tocaya Antojería, Chicago, IL
Tim Flores and Genie Kwon, Kasama, Chicago, IL
Andy Hollyday, Selden Standard, Detroit, MI
Sarah Welch, Marrow, Detroit, MI
Best Chef: Mid-Atlantic (DC, DE, MD, NJ, PA, VA)
Jesse Ito, Royal Sushi, Philadelphia, PA
Dionicio Jiménez, Cantina La Martina, Philadelphia, PA
Kate Lasky and Tomasz Skowronski, Apteka, Pittsburgh, PA
Michael Rafidi, Albi, Washington, D.C.
Chutatip "Nok" Suntaranon, Kalaya, Philadelphia, PA
Best Chef: Midwest (IA, KS, MN, MO, NE, ND, SD, WI)
Sanaa Abourezk, Sanaa's Gourmet Mediterranean, Sioux Falls, SD
Gregory León, Amilinda, Milwaukee, WI
Francesco Mangano, Osteria Papavero, Madison, WI
Itaru Nagano and Andrew Kroeger, Fairchild, Madison, WI
David Utterback, Yoshitomo, Omaha, NE
Best Chef: Mountain (CO, ID, MT, UT, WY)
Salvador Alamilla, Amano, Caldwell, ID
Michael Diaz de Leon, BRUTØ, Denver, CO
Suchada Johnson, Teton Thai, Teton Village, WY
Kris Komori, KIN, Boise, ID
Ali Sabbah, Mazza, Salt Lake City, UT
Best Chef: New York State
Nasim Alikhani, Sofreh, Brooklyn, NY
Mary Attea, The Musket Room, New York, NY
Amanda Cohen, Dirt Candy, New York, NY
Shaina Loew-Banayan, Cafe Mutton, Hudson, NY
Junghyun Park, Atomix, New York, NY
Best Chef: Northeast (CT, MA, ME, NH, RI, VT)
Valentine Howell, Krasi, Boston, MA
Christian Hunter, Community Table, New Preston, CT
Sherry Pocknett, Sly Fox Den Too, Charlestown, RI
Yisha Siu, Yunnan Kitchen, Boston, MA
Renee Touponce, The Port of Call, Mystic, CT
Best Chef: Northwest and Pacific (AK, HI, OR, WA)
Joshua Dorcak, MÄS, Ashland, OR
Vince Nguyen, Berlu, Portland, OR
Thomas Pisha-Duffly, Gado Gado, Portland, OR
Beau Schooler, In Bocca Al Lupo, Juneau, AK
Aaron Verzosa, Archipelago, Seattle, WA
Best Chef: Southeast (GA, KY, NC, SC, TN, WV)
Sam Fore, Tuk Tuk Sri Lankan Bites, Lexington, KY
Josh Habiger, Bastion, Nashville, TN
Sam Hart, Counter-, Charlotte, NC
Terry Koval, The Deer and the Dove, Decatur, GA
Paul Smith, 1010 Bridge, Charleston, WV
Best Chef: South (AL, AR, FL, LA, MS, PR)
Ana Castro, Lengua Madre, New Orleans, LA
Timothy Hontzas, Johnny's Restaurant, Homewood, AL
Henry Moso, Kabooki Sushi, Orlando, FL
Alex Perry and Kumi Omori, Vestige, Ocean Springs, MS
Natalia Vallejo, Cocina al Fondo, San Juan, PR
Best Chef: Southwest (AZ, NM, NV, OK)
Oscar Amador, Anima by EDO, Las Vegas, NV
Kaoru Azeuchi, KAISEKI YUZU, Las Vegas, NV
Andrew Black, Grey Sweater, Oklahoma City, OK
Jeff Chanchaleune, Ma Der Lao Kitchen, Oklahoma City, OK
Justin Pioche, Pioche Food Group, Upper Fruitland (Doolkai), Navajo Nation, NM
Best Chef: Texas
Reyna Duong, Sandwich Hag, Dallas, TX
Benchawan Jabthong Painter, Street to Kitchen, Houston, TX
Emiliano Marentes, ELEMI, El Paso, TX
John Russ, Clementine, San Antonio, TX
Ernest Servantes and David Kirkland, Burnt Bean Co., Seguin, TX
In conclusion, the James Beard Awards are a highly anticipated event in the food and beverage industry, recognizing and honoring outstanding achievement in the culinary world. The announcement of nominees generates significant buzz among chefs and food enthusiasts, and the awards ceremony itself is a celebratory event that brings together industry leaders from across the country.