Former Kotoko and King Faisal striker Kwadwo Poku,porpularly known as 'Mahala', has made an astonishing statement as he claims to be the best GhPL CF since 2000.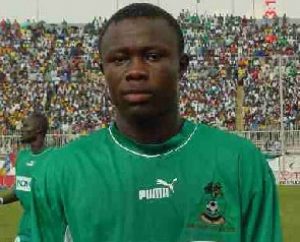 For many who have been following the Ghana Premier league for so long, Kwadwo Poku Mahala is a name not new to them at all.
The striker made a name for himself playing in a King Faisal Babies side that was one of the best in the country and occasionally made it to the continent.
Along with players like Ibrahim Tanko , Abubakar Yahuza and Dreams FC forward,  veteran Eric Gawu Gatete, Mahala made a name for himself on the local scene.
Speaking in an interview with Kumasi based FM radio station Silver radio, Kwadwo Poly said,
"I Was a full package of forward has not a 'fan standing striker' Because I Was able to dribble, pass, shoot and tricky as well. The only thing I lacked was aerial ability"
"I was deputised by Shaibu Yakubu During my reign. Asamoah Gyan Was the third striker by Then."
"Most players earn up to call the Blackstars Because of luck. I [Poku] Think I Was not lucky "
However,  Kwadwo Poku was part of the Ghana team that made it to the final of the CAF African Championship in 2009,scoring the winning penalty in the semi final to take Ghana to the final.