Hype House is a new Netflix series that stars social media influencers. 
The show's cast includes many famous social media personalities, and you can find them on platforms such as Instagram, Snapchat, and YouTube.
Chase Hudson, Nikita Dragun, Thomas Petrou, Larry Merritt, Vinnie Hacker, Alex Warren, Jack Wright, Sienna Mae Gomez, and Kouvr Annon are among the actors in the Hype House Netflix series.
The reality show Hype House debuted on 7th January, 2022, and it covered many social networking sites.
The reality show depicts and follows the lives of nine influencers from all over the world.
Hype House Cast Members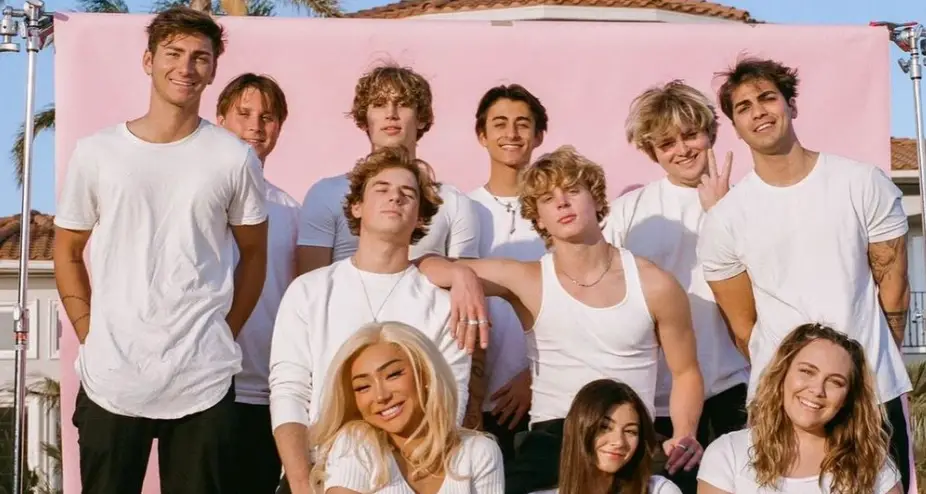 Let's get to know the nine casts of Hype House: Chase Hudson, Nikita Dragun, Thomas Petrou, Larry Merritt, Vinnie Hacker, Alex Warren, Jack Wright, Sienna Mae Gomez, and Kouvr Annon.
Chase Hudson
Lil Huddy real name Chase Hudson, is a social media influencer, singer, and an actor.
He has an admirable fashion sense and has been tagged as one of the top TikTok music influencers by Billboard.
He's also gained fame on his Instagram account.
His popularity soared when he was dating Charlie D'Amelio, who's also a famous TikTok star.
Nikita Dragun
Nikita Dragun's addition to Hype House will add a new flavor to the show.
Her audience may include her Instagram followers and trans people all around the world.
Dragun was born in Belgium on January 31, 1996, but her journey with being transgender started in her teenage years.
She immediately felt different from the other kids she knew.
Dragun came out as a transwoman and went on to have surgery on her body.
Thomas Petrou
One of the cast members on Netflix's Hype House is Thomas Petrou, an entrepreneur and social media influencer.
It's incredible that he's not just one of the many casting on the show, but also the founder of the Hype House show.
If it weren't for Thomas, Netflix wouldn't have come up with the idea to produce this show, so you should be thankful to him.
Alex Warren
Posting vlogs on skateboarding stunts, Alex Warren has earned tremendous subscribers on his Youtube channel.
Many people get inspired by his videos and are commencing their skateboard journey.
While we have been seeing Warren on his Youtube channel with his skateboard, skating perfectly fine, it is more than exciting to know if Alex comes up with best stunts or has bloopers as well.
Alex was born on 18th September 2000 and is an orphan. Just at the age of nine, Alex lost his dad to cancer, and recently, in 2021, his mother passed away.
With these heart-wrenching events, it must have been hard for Alex to cope with the usual schedule, however, he is thriving his best to live a normal life.
Luckily, his girlfriend, Kouvr Annon is very supportive of him and has been giving her shoulders to lean on.
Amazingly, Alex and his girlfriend, Kouvr have been together since 2018, and now that, Hype House is about to get released, surprisingly, both of them are casting on the show.
Their love life will surely catch everyone's heed while they are in the show.
Larray Merritt
Professionally famous as larry, the American YouTuber, Larray Merritt was born on 22nd July 1998 in Los Angeles, California.
Posting hilarious content, Larray has been gaining many fans and followers on his Instagram. Myriads of people love his sense of humor, and bringing laughter in everyone's lives, his youtube videos are appreciated by the majority of people.
Moreover, the Youtuber was nominated in the Breakout Creator category at the 9th Streamy Awards in December 2019, and this acted as a positive catalyst in giving more exposure to him.
Vinne Hacker
Who doesn't know the eminent Tiktoker Vinnie Hacker? The star whose videos are spammed with thirsty comments. Yes, you heard it right.
The women in Tiktok are crazy for Hacker's attention as they are blind with his hot and charming body.
Moreover, the tattoos on his arms and chest have enhanced his physical appearance, attracting more female followers onto his Tiktok account as well as Instagram.
Hacker's cast in the American reality show, Hype House will bring more viewers to the show as his Tiktok followers wouldn't risk seeing how he is in the reality. Are you one of the Hacker's craziest simps?
Jack Wright
The youngest cast of Hype House, Jack Wright was born on 29th March 2003 in Temecula, California, United States. Studying at Oakland high school, Jack recently completed his high school, and just at a very young age, Wright has been earning fame and tremendous followers on his Instagram account.
His cast on Hype House will be worth watching as his ex-girlfriend, Sienna Mae Gomez will live at the house too. Do you think Jack and Sienna will bet along in the show or will be the root one espousing arguments?
Sienna Mae Gomez
Filled with positivity, Hype House cast, Sienna Mae Gomez never fails to spread positivity. Making the best possible use of social media platforms, Mae Gomez has been uploading TikTok content based on positive aspects.
Despite being optimistic, people have been tagging her fake and down famed her when it was rumored that she sexually assaulted her ex-boyfriend, Jack Wright.
Subsequently, Gomez denied the accusations, and yet, the official thing is hidden. As she will be casting on Hype House, along with her ex-boyfriend, will this create a problem, or will the pair sort out their problem?
Kouvr Annon
Born on 31st May 2000, the well-known Tiktok star and social media influencer, Kouvr Annon has numerous fans on Instagram.
Being a fitness guru, model, social media influencer, Annon wasn't blessed with this perfect life rather, she took every stern initiative of making her life perfect.