The man accused of stabbing author Salman Rushdie on a stage in western New York on Friday is a 24-year-old man from Fairview, New Jersey, according to authorities.
Police identified the suspect as Hadi Matar, 24, in a news release distributed hours after the Indian-born author's attack.
Rushdie, 75, was about to speak at a literary festival hosted by the Chautauqua Institution late in the morning when Matar allegedly rushed on stage and stabbed him at least once in the neck and the stomach, Maj Eugene Staniszewski of New York state police major said.
Hadi Matar: What we know about the man who attacked Salman Rushdie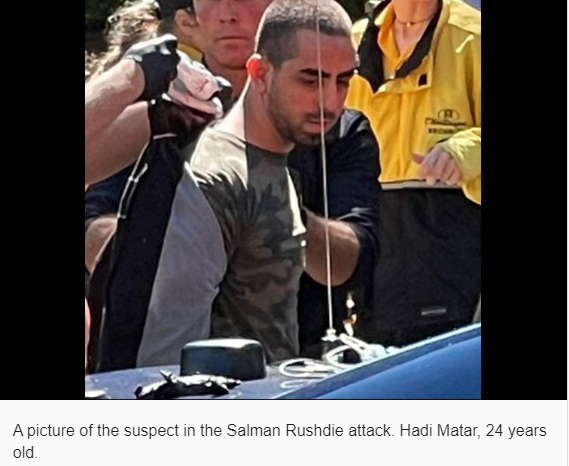 The suspect, 24-year-old Hadi Matar, was born in California, but recently moved to New Jersey, according to law enforcement sources familiar with the investigation.
Hadi Matar held a fake driver's license bearing the surname of an infamous Hezbollah commander, it has been claimed.
That driver's license, which was was found on Hadi Mater bore the name Hassan Mughniyah. Both the first and second names are linked to infamous terrorist organization Hezbollah. The group's current leader is named Hassan Nasrallah.
While one of the group's most notorious figures was Imad Mughniyeh, who was killed in a CIA-linked assassination in Syria in 2008.
A preliminary review of Matar's social media showed him to be sympathetic to "Shia extremism" and the causes of Iran's Islamic Revolutionary Guard (IRGC).
Fact Check
We strive for accuracy and fairness.
If you see something that doesn't look right, email us at  [email protected]