Guy Reffitt, a Donald Trump fan from Texas who attempted to storm the U.S. Capitol while armed with a gun was sentenced to more than 7 years in prison on Monday after a judge denied the Justice Department's request for a "terrorism enhancement" that would have resulted in a lengthier prison sentence.
Guy Reffitt was the first Jan. 6 defendant to go to trial. Reffitt's own son actually tipped off the FBI a couple of weeks before Jan. 6 but didn't hear back until after the attack.
The government had an enormous amount of evidence against Reffitt, including his friend's testimony that Reffitt was carrying zip ties and that the duo had made a decision to carry guns because they'd rather be "tried by a jury of twelve than carried by six."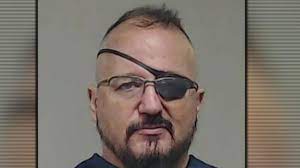 Guy Wesley Reffitt is a white man from Wylie, Texas, United States. He previously lived in Canton, Van Zandt County, Texas.
Reffitt and his wife Nicole Reffitt have three children.
He is a licensed driver in Texas and a petroleum industry rig manager. On March 10, 2011, he was booked into Henderson County Jail in Athens, Texas for driving while intoxicated. He was released on the same day. (a)(b)(c)(d)
He is a member of the Texas Three Percenters and a recruiter for the anti-government movement. He and Nicole have one son named Jackson Reffitt and two daughters namely Sarah Reffitt and Peyton Reffitt. According to Jackson, they were very close before the U.S. presidential election in 2016, which was won by Donald Trump.
On March 13, 2021, prosecutors revealed that he misled the FBI by telling them his company TTP Security, LLC stood for Tactics, Techniques and Procedures and had no connection to the Texas Three Percenters.