Ghanaians react as Balotelli makes bold suggestion to fight racism
---
Ghanaians have taken to social media, especially twitter to react to a comment by Mario Balotelli on how African Footballers can fight racism.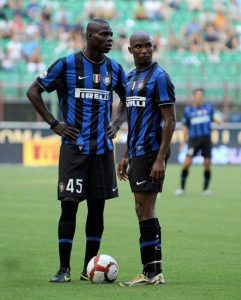 Brescia forward Mario Balotelli was speaking to esohosports.com when he made the bold suggestions on how Africans can fight racism.
Balotelli, who was born to Ghanaian parents In Italy was given up for adoption at an early age and chose to  represent the Italian National team instead of Ghana.
In his career, Balotelli has been a victim of racism from fans many times with the latest happening earlier in the 2019/2020 Italian Serie A season when he nearly walked off the pitch. Speaking in an interview, Balotelli said;
"I challenge you all African footballers to put money together with me to leave the Racist Europe and build stadiums in Africa and develop our youth."
"We have money we can build at least 5 world class stadium in each country and sign a petition that no players will be exported to Europe ever again."
"Here in Africa they will play under love of their sisters and brothers with no one singing racists chants on the stands against them. We are more talented. We can make our Champions League quality and our leagues quality. We have great talent that is never appreciated Abroad."
Ghanaians have however taken to twitter to react to the comments made by the former Manchester City and Inter Milan star,
One tweep commended the idea saying;
But this be some real sense from balloteli pic.twitter.com/UOscbJwHoj

— 🗯 (@_Sedemm) May 10, 2020
Another also commended the player but raised worries over how feasible the ice was;
I love that idea but the battle isn't only financial. They have to fight the corruption that has stagnated growth on the continent https://t.co/GV5RtE9dox

— General Atopa (A good Ato) (@wofa_slayzie) May 11, 2020
However, one seemed to have not forgiven Mário for snubbing Ghana in his early days and wasn't so impressed with the idea.
He rejected playing for Ghana and is now saying this
Abi Italy is in Africa??

— @thegunner🇬🇭 (@kpodo_elorm) May 11, 2020