Ghana Sim Card Re-Registration 2021.

In this article, we will discuss How To Register Your SIM Card And Link It To Your Ghana Card.
The Ministry of Communications and Digitalisation is carrying out a nationwide SIM card registration exercise across Ghana, starting today, October 1, 2021.
Mobile subscribers in Ghana must provide the following information before they may register for a SIM card: name, residential or workplace address, date of birth; and Certificate of Incorporation, in the case of a body corporate; or registration, in the case of a partnership or an unincorporated body of persons; and an identification document.
The National Identity Card (Ghana Card) belonging to an individual is the only document that can be used to register SIM cards of citizens.
Moreover, foreigners living in Ghana for more than 90 days can register their SIM cards with the Ghana Card.
Foreign nationals visiting Ghana for a short period can secure a SIM Card by using their passports, but after 30 days it will be revoked.
For foreigners seeking to apply for a SIM card that will be valid for over 30 days, they must obtain the Non-Citizen Ghana Card.
Using the official shortcode (USSD) *404#, you can now register (or re-register) your Ghana SIM card (MTN, Glo, Vodafone, AirtelTigo) to your Ghana Card.
How to register your SIM Card with Ghana Card
For your SIM Card re-registration to be successful in Ghana, please follow the steps below to ensure that you update your details.
1. Select the number *404# and hit enter.
2. Enter Ghana Card PIN (Enter letters and figures without the hyphens)
3. Confirm Ghana card PIN
4. Enter your Surname, First Name and other names
5. Enter your Date of Birth in the format DDMMYY
6. Select your Sex
7. Confirm details
8. Submit the details provided after confirmation
9. Visit your Service provider (Agent Customer Care) to complete the
registration.'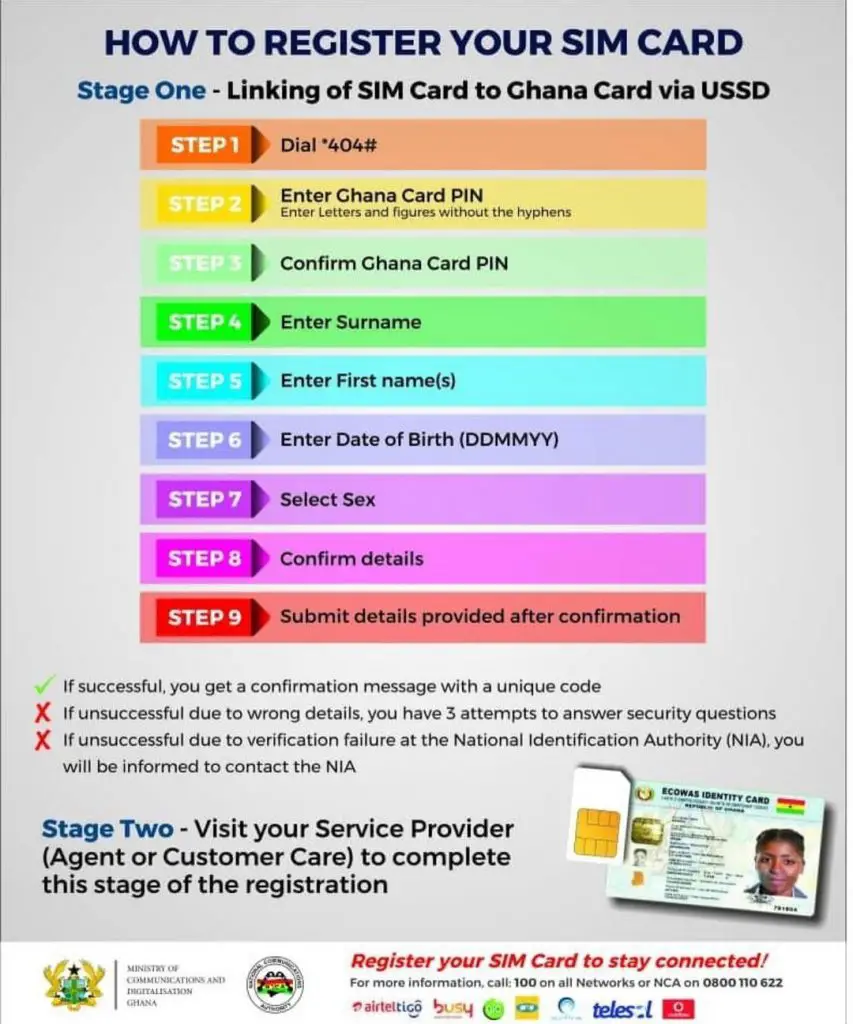 NB:
The shortcode for SIM Card registration in Ghana is *404# .
You will receive a confirmation message that contains a unique code.
If the details are incorrect, you have three chances to answer the security questions.
You will be notified if not successful due to verification failures by the National Identification Authority (NIA).