Francisco Oropeza has been identified as the individual responsible for deadly shooting at a home in Texas in which five people died, including an eight-year-old.
Francisco Oropeza has been described as a 39-year-old man from Mexico .
He is described as a Hispanic male who is approximately 5'8" tall, last seen wearing blue jeans with a black shirt and work boots and is described as having short black hair
He shot his neighbours with an AR-15 style rifle after they asked him to stop firing rounds in his yard because they were trying to sleep, authorities said Saturday.
The shooting, located around 45 miles (72 kilometers) northeast of Houston, was reported around 10.30pm local time.
Two female victims were found in the bedroom lying on top of two children who survived the ordeal, the report added.
What happened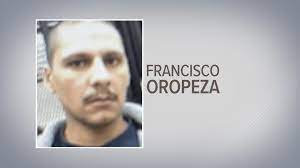 The incident started as a harassment call to the sheriff's office just after 11:30 p.m. Friday night at a home on Walter Drive in the Trails End subdivision.
Sheriff Greg Capers said it immediately turned into a shooting.
According to Capers, they found multiple people shot around the home. Ten people were inside the home at the time of the shooting.
Capers said the ages of the victims range from 8 to 40 years old and that they're all from Honduras. We're told four people were dead at the scene and that the 8-year-old died at the hospital. Three others were found covered in blood inside the home, but none of them were injured.
Investigators said the shooter, 38-year-old Francisco Oropeza, was confronted by neighbors and asked to stop shooting because they had a young child who was trying to sleep. Oropeza responded by saying he would do what he wants on his property.
Capers said Oropeza escaped the area after the shooting. Several guns were recovered from his home by a SWAT team.
"The suspect…we don't believe him to be in the area," Capers said. "He's at least 10 to 20 miles away from here."
Capers said Oropeza was known to shoot his rifle in the front yard and that they've had numerous calls to the area. The sheriff's office said he has been charged with five counts of murder.
Fact Check
We strive for accuracy and fairness.
If you see something that doesn't look right, email us at  [email protected]