A Louisiana woman and her boyfriend were arrested Tuesday after Ezekiel Harry, the woman's 2-year-old son, who she claimed had been abducted during a walk, was found dead in a trash can.
Maya Gwenlyn Jones, 28, and Jermaine Michael Robinson, 37, were taken into custody on Tuesday and charged with a spate of felonies, including one count each of first-degree murder and obstruction of justice in connection to the death of Ezekiel Harry.
According to a press release from the Houma Police Department, officers responded to a 911 call on Tuesday at around 12:00 p.m. in reference to the possible abduction of a 2-year-old boy who was allegedly taken near the 100 block of Mahler Street.
Investigators spoke with Jones, who allegedly said that she was walking along Bayou Terrebonne with her children when "a subject in a grey truck passed, grabbing her 2 year old and depart[ing] the area." Investigators said that Ezekiel was last seen wearing burgundy shorts and a blue-and-white striped shirt with an orange dinosaur featured on the chest pocket.
Police investigating Ezekiel's whereabouts were initially told that Jones left her home on Cadiere Street accompanied by Ezekiel and her three other children, all of whom are between the ages of five and 10.
Investigators said that sometime after they arrived at a walking track in the area of Bayou Terrebonne and Mahler Street, Jones began going up to nearby homes and telling the residents that "her kid was abducted," per the original press release from police.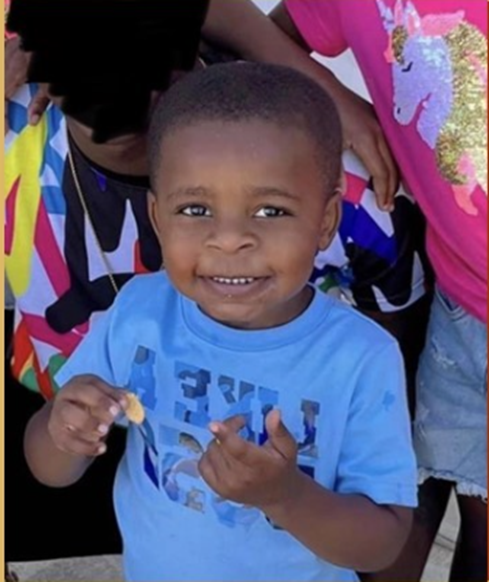 However, police say the mother's claim about Ezekiel being abducted off of the street was quickly proven to be false, leaving investigators suspicious of the motive for misleading police.
"Houma Police, through investigation immediately developed information that the report released by the mother was inaccurate," the department wrote in the release, adding that investigators "suspect foul play may be involved."