Emmanuel Kojo Dadson ( Biography )
Kojo Dadson (died 9 February 2021 ) was a prolific actor who featured in a number of productions such as Love Brewed In An African Pot, Run Baby Run, Home Sweet Home, Sun City, Hotel St. James, Doctor Love among others.
Born in the 1950s in the Western Region of Ghana to the late E.K. Dadson, a businessman, and politician, and Beatrice Dadson, a retired beautician.
He earned a reputation for his humor and comedic acting.
Age
67
Education
Kojo Dadson attended the Achimota Primary school but left with his siblings at the age of eight to continue his education in London.
Kojo continued his secondary school at a public school in Southwest England called Grenville College and it was there he discovered himself.
He spent four years there between 1965 and 1969.
Acting Career
Determined to have a life in drama school he enrolled at the Westham School of Further Education to acquire more experience in his chosen field.
View this post on Instagram
He studied 'Drama and Personal Development' in1969.
His decision did not go down well with his parents who disapproved of his line of studies especially when there was a family business to be taken care of.
His father, E.K. Dadson brought him back to Ghana where he was sent to St. Augustine College in 1972 for his O levels.
It was at St. Augustine's College that he met Kofi Bucknor, also an actor and former boss of Ghana television.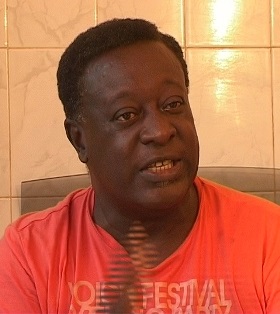 Back in England, he enrolled for a part-time course in drama at the Guildhall School of Music and Drama.
Though he was doing well in his studies his parents still insisted it was wrong for him but he also thought he had been left alone to "plot my own future and that is what I was left to do and that was my flair."
--Advertisements--
--Advertisements--
Kojo Dadson came back to Ghana and joined the family fishing business as a tally clerk but still found time to pursue his dream.
In 1978 they had a big break when the government at the time invited them to represent Ghana at the 'World Festival of Youth and Students' in Cuba. It was an exciting opportunity for them but Kojo said they never looked at it as an opportunity to make money but just enjoy their talents.
He disappeared into thin air until Village Communication, the producers of the popular Taxi Drive sitcom' dug him, literally, out of his hole for a different production called 'Number 5 Kotokuraba Street' which was about a brilliant but swift Cape Coast lawyer who often exploited his position to settle cases at his home. The production folded up.
After a stint on Sun City, he joined Emmanuel Apea's Revele film which was then working on 'Home Sweet Home.' He had hoped for a quiet role but was handed the role of the husband to Rama Brew, who had replaced Jackie Ankrah.
View this post on Instagram
He said he fell in love with the script after reading it the first time.
He had just returned from shooting another movie called Elimina by Emmanuel Appiah. The film looks at Ghana's oil discovery and its impact on the environment.
Despite his artistic prowess Kojo is yet to feature in any of the many movie productions in the country.
He said most producers are unable to approach him because of the perception he might turn them down.
Family
Kojo Dadson left behind four lovely children said "circumstances" had blessed him with two wives.
Illness
He suffered a stroke in 2012 while doing what he loved best, acting.
He also a musician and in the days when he couldn't move around much, he found solace in it.
Death
He died on Tuesday, 9th February 2021 at the  Korle Bu Teaching Hospital on Tuesday,  while undergoing dialysis for kidney issues.
Fact Check
We strive for accuracy and fairness.
If you see something that doesn't look right, email us at  [email protected]