A 34-year-old Southwest passenger identified as Elom Agbegninou have been arrested after she made an attempt to open a plane door mid-flight.
Elom Agbegninou, according to documents released by a US Court, said that she tried to open the plane door because "Jesus told her to".
What happened
Elom Agbegninou, was on the Ohio-bound flight from Texas on Saturday afternoon when she allegedly became frustrated that flight attendants prevented her from reaching the emergency exit.
When an other passenger intervened, Agbegninou bit them on the thigh and refused to disengage until her jaw was opened, Click2Houston reported.
That victim, who was not identified in the complaint, was suffering from PTSD after the attack and treated with antibiotics in hospital.
Other terrified passengers recounted the crazy confrontation.
"They were rushing to the back of the plane to help. I was thinking about the worst case, probably that plane will crash, but I know it's a very low probability," passenger Ding Yu told Fox News Digital about the fellow traveler intervening.
Once safely on the ground, Agbegninou was removed by officers while the bite victim was treated with antibiotics and hepatitis shots.
Yu captured a video of the drama, which shows Agbegninou still ranting while being led off the plane.
Elom Agbegninou accused of assault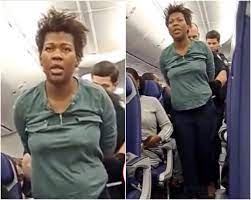 Agbegninou appeared at court on Wednesday morning for a trial but her attorney expressed concerns that it could not proceed due to her mental state.
The complaint, written by FBI Special Agent Kaitlin Patton, alleges that Elom Agbegninou,  committed assault within maritime and territorial jurisdictions and interfered with flight crew members and attendants on Southwest Airlines Flight 192 on Saturday afternoon. Patton works in the agency's Little Rock field office.
The complaint provides an account of the events leading up to the plane's emergency landing in Little Rock on the evening of November 26 – during the busy Thanksgiving weekend.