Ekumfi juice is a Ghanaian fruit juice manufactured by Ekumfi Fruits and Juices Limited.
Christened 'Eku Juice', the product is nicely packaged in a green-colored juice box measuring 250ml, with the made-in-Ghana logo embossed on it, among other unique features.
About Ekumfi Juice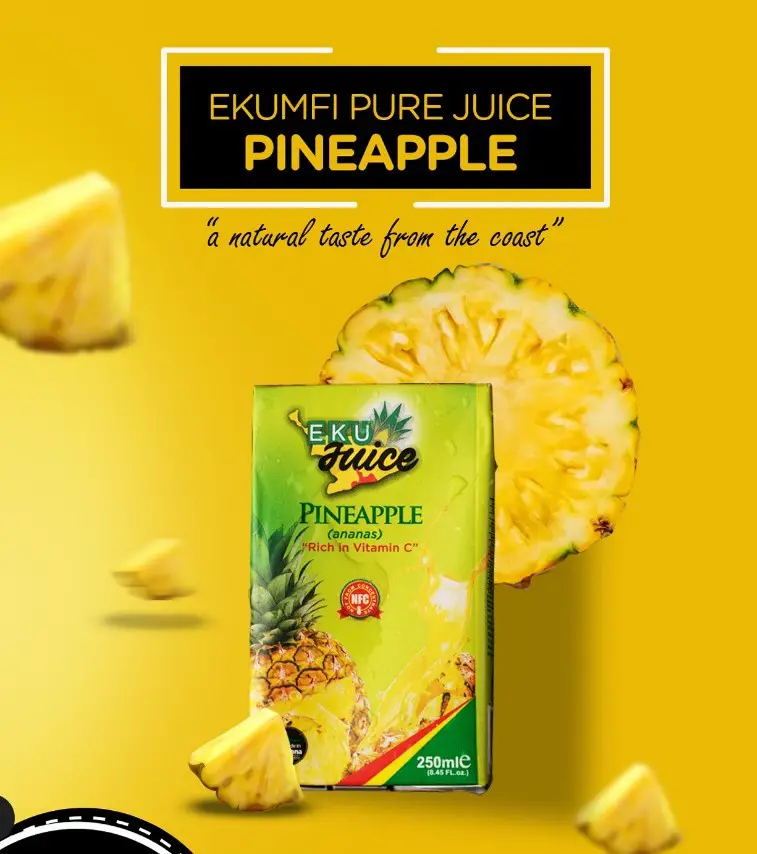 The Ekumfi Fruits and Juice Limited is the first company to have been launched under the President's flagship 1 district, 1 factory initiative.
The $8 million projects, which officially commenced in March 2018, now has 400 workers including out-growers.
The aim of its flagship program, 1D1F is to create jobs for Ghanaians and also to help grow the economy.
Prices of Ekumfi Juice /Eku Juice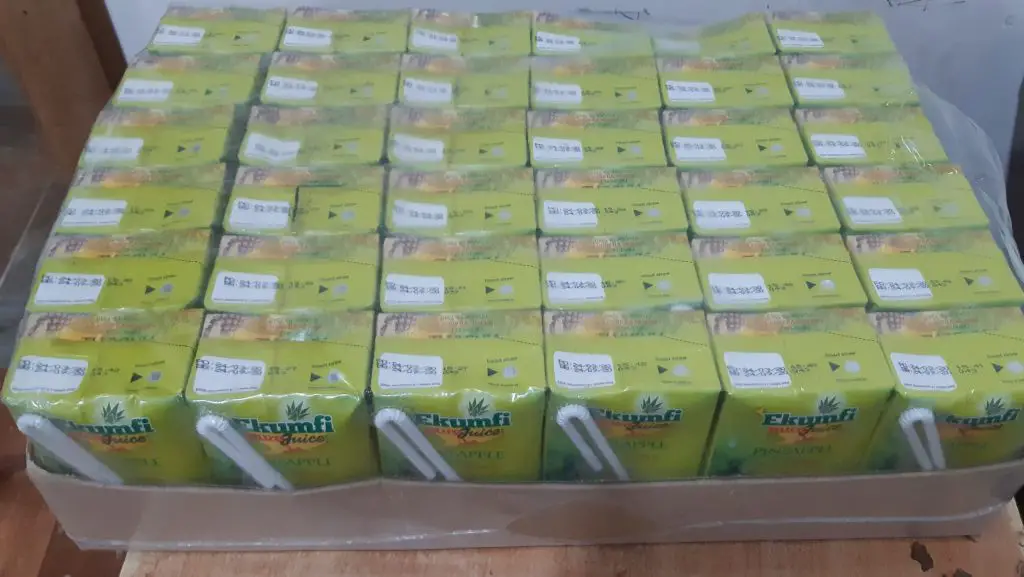 Ekumfi Juice: Pineapple (250 ml x 36) carton – GHC 65 – 70
Type of Ekmufi Juice
Ekumfi Pineapple only
Ekumfi pine-ginja
Process in Manufacturing Ekumfi Juice
The Ekumfi fruits and Juices company has a bath that washes sorted pineapple from the farms which is then carried through a conveyor belt to a cleaner and a steriliser before it gets into a crusher to separate the chaff from the juice.
The second stage which is the processing phase comprises filtration mechanisms where comprehensive cleaning works begin.
This stage of the production is also known as the pasteurization stage.
The third stage which is packaging has three lines or stand ups.
First is the tetra box or tetra pack packaging. At this stage, the product is packaged in a box or a can.
Number of packs produced annually
the factory can process about 300,000,000 packs of juice annually for the local and export markets and would generate close to GH¢530 million in revenue.
The facility is the biggest pineapple juice processing factory in West Africa, with the capacity to process ten tonnes of fruit juice per hour.
The factory is sited on a 50-acre land and has 100-metres length and 50-meters width of factory floor space large enough for additional production works.
Factory Location
--Advertisements--
--Advertisements--
Located at Ekumfi Abor in the Central Region has commenced the sale of packaged pineapple juice on the market.
Ekmufi Juice Contact Details
View this post on Instagram