Download Ghanaian Movies
Streaming companies are always looking to make their services more convenient for users by adding new features every day.
The download features, for instance, are useful for several offline purposes whenever streaming Ghanaian movies isn't possible mostly due to network challenges .
You don't have to download Ghanaian movies illegally or put your devices at risk.
There are ways to download on Amazon Prime, Netflix and YouTube Red that are legal.
Below are list of streaming platforms you can download movies legally.
Netflix

Netflix has improved its features a lot over the year and today, downloading is completely legal. If you do not already have the Netflix app on your Android or iOS, then you should.
This is because you will not be able to download Ghanaian movies without the app.
One little tip for downloading on Netflix is that you can choose your download quality.
Once you have done that, then select the download icon next to the movie title.
Amazon Prime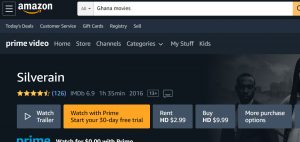 Amazon prime enables Ghanaian movies and series download for phones and tablets only.
To download movies on Prime, you need the Amazon Prime for Android installed on your device.
Once the app is installed, the rest should be easy. Search and select the Ghanaian movie that you want to download. You will find the process easy when you click on the details page of a movie.
YouTube
Most videos on YouTube don't have download buttons, and this makes download sometimes impossible. There are several options for downloading movies on YouTube like the use of special services.
However, the best option will be to subscribe to YouTube Red or Premium. This service will cost you some money, but it is the only way to download YouTube videos to iOS or Android devices. The system also doesn't allow you to save videos to your computer.