A Ukrainian adoptee named Dima Tower has been charged with murdering his adopted parents at their Florida home before leading police on an hourslong chase.
Dima Tower, who recently celebrated his birthday behind bars, allegedly stabbed his adoptive parents Robbie Tower, 49, and Jennifer Tower, 51, in their home in North Port, Florida on Friday, before he led cops on an eight-hour manhunt that ended with his arrest on Saturday morning.
What we know about Robbie and Jennifer Tower
Dima Tower adopted parents Robbie and Jennifer Tower were Christian missionary couple, who also worked as real estate agents.
The couple, unable to have kids on their own, adopted defendant Towers when he was 14.
They adopted Dima seven years ago from an orphanage in eastern Europe, where he was beaten and 'bruised'. Since moving to the US, unearthed social media posts show how the Towers showered their son with love, attention, and support.
The trio played board games at home together, went on family trips across the US, held birthday party celebrations, played and watched sports together, and cooked with one another.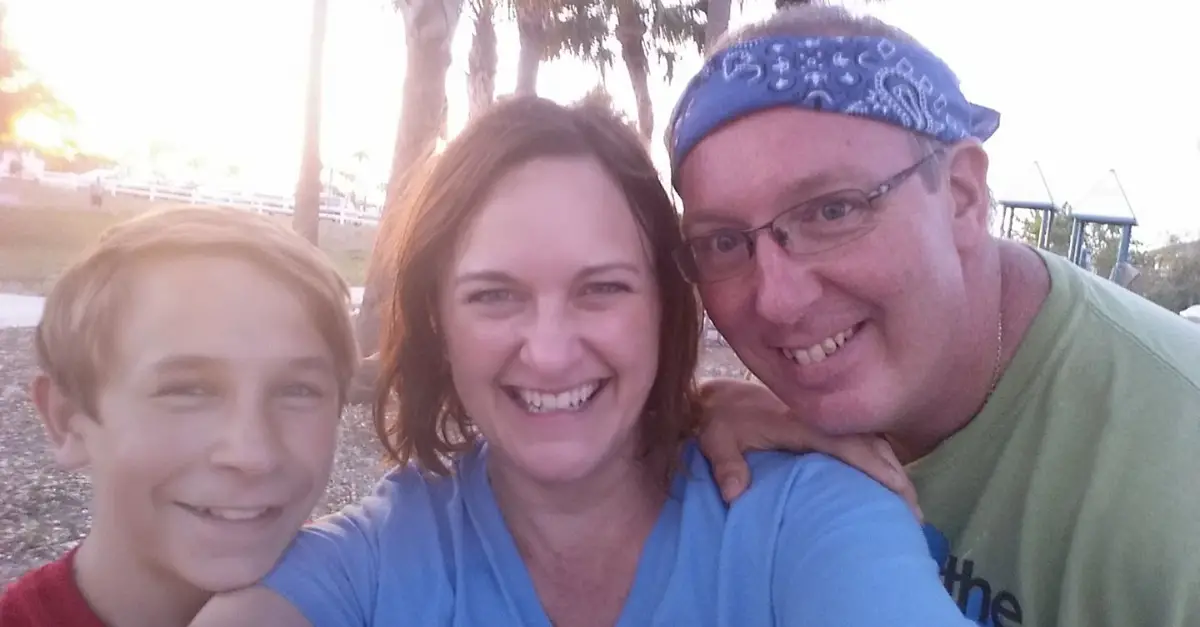 A GoFundMe has been set up for funeral costs for the husband and wife.
On Dima's 16th birthday, the family showered him with gifts, including toys and basketballs while he wore a Michael Jordan jersey and a party hat on his head.
He smiled with his family in their balloon-filled home, as he cut into his large birthday cake – which was frosted to look like a basketball court.
Celebrating the milestone, his mother Jennifer wrote in a post: 'Happy 16th Birthday to our son, Dima!!!! We love you more with every passing moment! We thank God for placing you in our lives at exactly the perfect time. 
'We have watched you grow up in so many ways these past two years, with many months spent apart. Today we feel so blessed to have you spend your birthday with us, your first birthday in the USA and your first birthday as our son. 
'We are so proud of you, Dima. We love you and are blessed to call you our son!! And, it's also pretty cool that today also happens to be a national holiday- Labor Day. 
'And though I know that Labor Day is celebrated for a different reason, the word "labor" isn't lost on me today. 
'I am grateful for the birth mother who was in labor 16 years ago today and brought you into this world. May God continue to bless our journey together, dear son.'
After Dima's first week of school in January 2017, the family celebrated by eating out at a local restaurant – and Rob posted alongside a smiling selfie at the table: 'Taking our son out for a successful first week of school!!!!' 
Even during Florida's storm season, the couple supported their Ukrainian son through the new, scary experience. In September 2017, dad Rob wrote: 'Dima was cool as a cucumber during his first hurricane experience! 
'He said "everything is better with cheese balls" depicted in the picture. He had big smile on his face though when he found out how many I had.'
The slaughtered father and mother would often take their son Dima on fun-filled family outings, including minigolfing and to games arcades.
In one post from April 2017, he shared images of the trio at a golf course with the caption: 'Highly competitive round of minigolf transpiring here !!!!!!'
And the Christian couple would also make sure to keep alive Dima's Ukrainian roots while he lived in the US.
When parents were bringing in dishes to a potluck at his school, Jennifer made Borscht – a traditional Ukrainian soup.