Prophet Kumchacha has revealed why the body of the late Man of God, 'Apraku My Daughter' has not been buried.
According to the Prophet, 'Apraku My Daughter' hasn't been buried because he has to bury his mom before the burial of the Man of God is buried.
Apraku My Daughter died in May, a few days after a video of him in a drunk state circulated and generated buzz on social media. Ever since his death was reported, there has been little or no comments about his burial plans on social media, a situation that has kept Ghanaians asking series of questions.
Prophet Kumchacha Details Of Apraku My Daughter Burial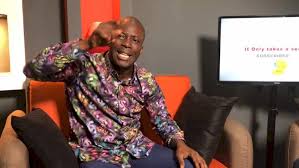 In an interview with Kofi tv, the Prophet Kumchacha said he didn't understand why Ghanaians can't avoid discussing issues that shouldn't be a bother to them. According to him, his mother's sudden death, coupled with the corona virus pandemic has delayed the burial of the man of God. He added that due to his close relationship with the family, they have agreed that he buries his mother before they burry the Man of God.
"Apraku will be buried after my mother's funeral is held this weekend. I am going to my hometown, Apedwa to burry my mother and so when I come back, the family and I will plan his burial", he said.
Is It Right To Move In With Your Partner During Courtship?