Texas teens, David Navarrete Arce and Diego Flores recently found themselves facing felony charges after allegedly unleashing a noxious "fart spray" prank at their high school, resulting in multiple students falling ill and triggering several evacuations.
The incident occurred at Caney Creek High School, located 45 miles north of Houston, three weeks ago.
The following is an account of the incident and its aftermath.
The Prank Unleashed
On May 3, a strong odor resembling gas was detected within Caney Creek High School, prompting the immediate evacuation of all students.
The foul smell persisted, causing classes to be canceled the following day as well.
After several days of closure, the school finally reopened on May 5 after the unpleasant odor had dissipated.
Students Fall Ill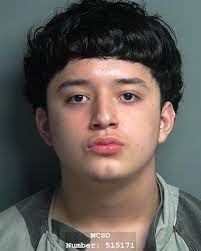 During the incident, six students complained of headaches and nausea and were subsequently hospitalized.
Additionally, at least eight other students reported feeling unwell due to the prank.
Concerns for the students' health led to an extensive investigation into the source of the odor.
Investigation and Arrest
Hazardous materials crews, equipped with gas detection equipment, diligently combed through the campus over three days, hoping to identify the cause of the noxious smell.
However, their efforts proved unsuccessful, leaving authorities puzzled.
Eventually, a breakthrough occurred when a student allegedly confessed to bringing a highly concentrated prank item known as "Hensgaukt Fart Spray" to school.
This revelation came in a statement issued by Carney Creek Fire & Rescue.
The spray is marketed as a gag toy capable of producing odors resembling feces and vomit.
Based on an arrest affidavit, police reviewed security footage and identified David Navarrete Arce as the individual seen walking with students who were observed recoiling and covering their noses and mouths.
The footage allegedly captured Navarrete-Arce dropping and picking up a small spray can, strongly suggesting his involvement in the incident.
Legal Consequences
As a result of their alleged involvement, David Navarrete Arce, aged 17, and Diego Flores, aged 18, were arrested on May 12 and charged with possession of a prohibited weapon.
This offense is classified as a third-degree felony, carrying a maximum penalty of up to 10 years in prison.
Both teenagers were subsequently released on a $3,000 bond.
Fact Check
We strive for accuracy and fairness.
If you see something that doesn't look right, email us at  [email protected]