After 25 years, Daniel Villegas' name has been cleared.
Daniel Villegas, a 41 year old El Paso man, was charged with capital murder in the 1993 deaths of Armando "Mando" Lazo and Bobby England.
Daniel Villegas, who was 16 years old at the time, was accused of fatally shooting Lazo and England on April 10, 1993.
He first went to trial in 1994, but a mistrial was declared after a jury was unable to reach a unanimous verdict.
Villegas was convicted of capital murder by a jury in a second trial in 1995.
After serving 18 years in prison, the conviction was overturned by the Texas Court of Criminal Appeals.
The Incident
On April 10th, 1993, Armando "Mando" Lazo, 17, and Bobby England, 18, along with  Jesse Hernandez, Juan Medina, were walking home from a house party when a car pulled up slowly behind them and quickly pulled away.
According to surviving witnesses, the car then turned around and headed back in the direction of the group, came to a stop, and someone from the back seat opened fire killing Lazo and England.
Investigation
Witnesses said they heard a burst of gunfire — five or six shots all at once — and police recovered six .22 shell casings in the street.
In their initial statements to police on April 10, Medina and Hernandez said they could not identify the shooter or give a detailed description of the car, although they said it was probably red or maroon.
The investigation was led by Detective Alfonso Marquez of the El Paso Police Department.
He brought Hernandez back for questioning on April 12.
When Hernandez repeated what he knew and did not know, Marquez became angry and said that Medina had already told police that Hernandez had killed their friends.
The interrogation continued, and Hernandez would later say he was close to confessing to a crime he didn't commit.
Three days later, after receiving a tip, Marquez and other officers arrested Michael Johnston, who was 15.
He was handcuffed to a chair, interrogated for eight hours, threatened with the death penalty, and told that his friends had already implicated him in the shooting.
Marquez told the boy that he would be raped in jail if he did not confess.
Johnston then gave a statement saying he shot Lazo and England.
He was never charged, and Marquez would later acknowledge the confession was false.
Daniel Villegas: How a joke landed him in jail for 25 years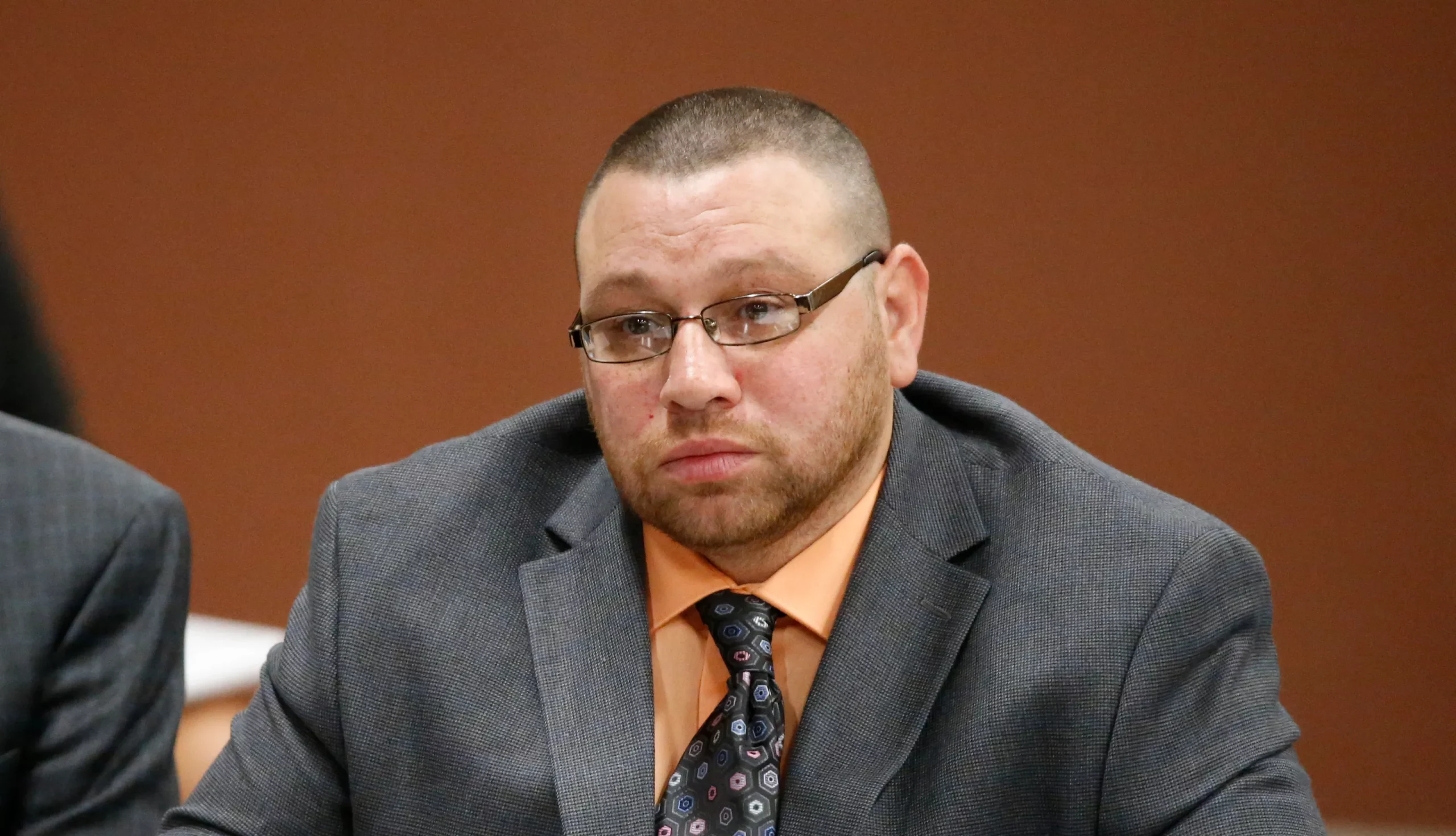 On April 21, Marquez brought in David Rangel, who was 17, for questioning.
Again, Marquez said that others had implicated Rangel in the shooting, and that if he didn't come clean, he would spend the rest of his life in prison and be sexually assaulted because he was young and pretty.
Rangel told Marquez that his cousin, Daniel Villegas, said he had shot Lazo and England with a sawed-off shotgun.
He added, however, that he was sure Daniel Villegas, who was 16, was joking, as he was always boasting about things that in truth he hadn't done.
After Rangel wrote down a statement that included the shotgun, Marquez told him to do it again, this time leaving out the type of weapon used.
The final statement Rangel signed was inconsistent with the statements of Medina and Hernandez, as well as the evidence gathered at the crime scene.
Rangel said that Villegas was in a black car, not a reddish car, and that Villegas had told him he chased Lazo and shot him a second time at the house, although no shells were found there.
That same day, Rodney Williams, who was 15, was brought in for questioning.
A detective interviewed him but said the boy had nothing new to offer.
Then Detective Scott Graves took over. Williams asked to see his mother. Graves refused the request. The interrogation lasted around six hours.
Williams initially said he and Villegas were not involved with the shooting; they had been watching television at a nearby apartment. Graves said that was a lie.
He told Williams he would go to prison where he would be raped, but that if he signed a statement implicating Villegas, he could go home.
The Coercive Statement
In his statement, Williams said he and Villegas went out on the night of April 9, which was Good Friday, with Fernando Lujan, Marcos Gonzalez, and Enrique Ramirez, who was driving a white sedan.
He said they stole a case of beer from a convenience store and just after midnight came upon the four young men on Transmountain Road.
Some words were exchanged, and then Villegas started shooting. Williams said Villegas killed England first and then shot Lazo in the back as he ran away. Williams was charged with murder, although the charges were later dismissed for insufficient evidence.
At 10:00 p.m. on April 21, Gonzalez and Villegas were arrested at Villegas's home. At the time, the police only had an arrest warrant for Gonzalez, who was 18.
P
Part of the story culled from– Ken Otterbourg./ www.law.umich.edu