Donald McEachin,

 a Democrat representing Virginia's fourth Congressional District since 2017, died Monday night after a battle with colorectal cancer, according to his office.

Donald McEachin was 61.

Eachin's chief of staff, Tara Rountree, said in a statement the congressman had been experiencing "secondary effects of his colorectal cancer from 2013."

McEachin is survived by his wife, Colette McEachin, and three children.
Who is Colette McEachin?
Colette McEachin is the wife of the late Aston Donald McEachin, an American politician who represented Virginia's Fourth District after being elected in 2016.
Colette was born in Colorado Springs, Colorado.
Education
Colette graduated from Brown University, worked in Boston for a few years, and then attended the University of Virginia School of Law.
Career
She is the Deputy Prosecutor for the City of Richmond and she has worked in the Richmond Commonwealth Attorney's office for more than 20 years.
Currently, she is the Commonwealth's Attorney for the City of Richmond.
She was elected in November 2019 and sworn into office in January 2020, just a few months before the Covid-19 pandemic began.
She has served on a number of professional and civic organizations, including the Hill Tucker Bar Association, the Criminal Law Section of the Virginia State Bar and the Board of Visitors for Virginia Commonwealth University.
Prior to her election she was the Deputy Commonwealth's Attorney responsible for supervising prosecutors in the General District Courtrooms that handle misdemeanor crimes, felony preliminary hearings, and traffic cases.
She also supervised felony sexual assault cases and the Office's community-based Sector prosecutors.
She has prosecuted crimes at every level, from domestic violence to burglaries, rape and homicides.
How many children did Donald McEachin and Colette McEachin?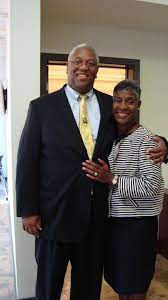 Colette McEachin and husband Donald had three children together  – Mac, Briana and Alexandra.
Colette met her late husband, Donald, while both were in law school.
Who was Aston Donald McEachin?
Donald McEachin was an American politician and lawyer serving as the U.S. representative for Virginia's 4th congressional district from 2017 until his death in 2022
Aston Donald McEachin was born Oct. 10, 1961, in Nuremberg, Germany. His father was an Army veteran and his mother a school teacher.
He graduated from St. Christopher's School in Richmond in 1979, then earned a bachelor's degree at American University in 1982 and a law degree at the University of Virginia in 1986. He earned a master of divinity degree at Samuel DeWitt Proctor School of Theology at Virginia Union University in 2008.
A lawyer in private practice during his career, he served in the House of Delegates from 1996-2002 and 2006-2008 and then the state Senate from 2008-2016.
He was elected to his first term to the U.S. House in 2016.