Law enforcement officials announced they arrested Christopher Ferguson, a 41-year-old man Monday in connection with the murder of three Newton residents.
Ferguson was charged on Monday with one count of murder and assault and battery after he allegedly broke into a Newton home and attacked the family, Middlesex District Attorney Marian Ryan said.
Ferguson was taken into custody after cops found surveillance footage of him "staggering" in the area while wearing no shoes or shirt at 5.20am, Fox News Digital reported.
Investigators used Leuco Crystal Violet (LCV), a chemical that allows them to see non-visible blood, on tile flooring outside the room where the main struggle occurred, Ryan said. This allowed them to uncover bare footprints.
"The skin of people's feet is unique and leaves an impression that can be compared as well," the DA said during the press conference.
Investigators took fingerprints from the windows, doors, and screens and collected "passive" blood droplets from the crime scene, Ryan said. All of this forensic evidence is in the process of being tested.
Police did not find any drugs at the scene of the crime, but Ferguson's state of mind will be addressed during his arraignment, the DA said.
"This was a careful, thoughtful, and relentless investigation," Ryan said.
Investigators have yet to find any connection between the D'Amores and Ferguson, the DA said.
Ryan said it is still unclear whether the attempted break-in that happened around 5:45 a.m. Sunday on Brookside Avenue is connected to the murders.
What we know about the murders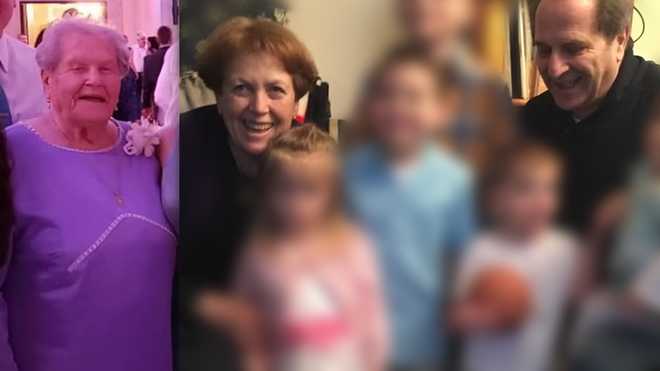 A close friend and neighbor discovered the bodies after the D'Amores didn't show up for church Sunday morning, the DA said. The D'Amores were set to renew their vows for their 50th anniversary during the service, and family had gathered at the church to celebrate.
All three victims suffered blunt force trauma and knife wounds, Ryan said. Jill D'Amore had over 30 knife and blunt force trauma wounds on her body, primarily to her upper body and head.
Police found a bloody knife in the kitchen, and there were obvious signs of struggle in one of the bedrooms, including broken furniture and a bloody paperweight, the DA said. There were signs of forced entry at the back of the house and basement, including open windows and doors and pried-off window screens.