A brilliant Ghanaian lady with the name Christine Selikem Lassey, has graduated from the University of Ghana as the Valedictorian with a finishing grade of 3.75.
Christine attended Accra Girls' Senior High School, where she studied General Arts with Literature In English, French, History and Government as electives.
In senior high school, she enjoyed studying Government more than anything else, and according to her, it was easy to learn it.
Christine, however, developed a keen interest in studying Law at the university due to her love of government, which led her to apply to the University of Ghana School of Law and get admitted in 2017.
Christine was determined to graduate with first-class honours when she entered the University of Ghana School of Law for the first time as a student.
She felt mentally prepared to excel academically so she could have the best grade in her class.
As a result of her objective to become the best student in her class, Christine immediately started to excel in her first year; and due to her outstanding academic performance, she was given a Lebanese Government and Community Scholarship.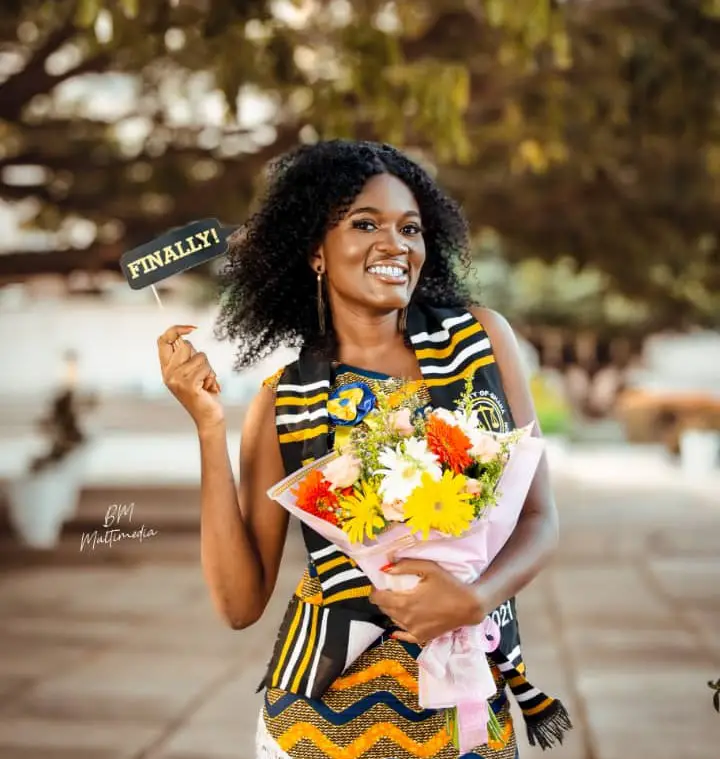 She was also one of eight students from the University of Ghana School of Law who benefitted from a two-year exchange programme (2019-2021) with Harvard Law School dubbed "Making Rights Real-The Ghana Project", with the research focus on problems faced by the girl child in the Northern Region of Ghana.
Christine, however, indicated that the lecturers at the Law School including Prof. Raymond Atuguba and the late Prof Emmanuel Benneh were crucial in her academic success.
She plans to pursue graduate studies in Public International Law after her professional law programme, and specialize in International Law.
Christine's biggest dream, however, is to become a Chief Justice of the Supreme Court of Ghana. She also aspires to become a Justice of the International Court of Justice and a renowned.