Burna Boy has claimed that he is worth more than $3.5 million as reported by some blogs.
The popular artiste took to his Snapchat account on Thursday to laugh off the reports that is net worth is $3.5 million.
Burna Boy bragged that the stated amount won't even be enough to buy his luxury cars.
"They said I'm worth $3.5mill…That won't even buy my cars. I might have to start doing some showing off. Nah. That's not me. Imma just let u run with whatever ur blogs tell u. $3.5 tho. I'm dead," he wrote.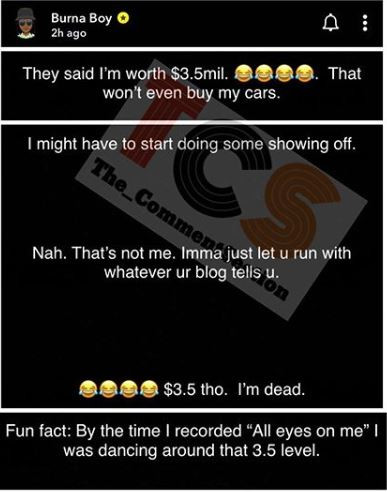 Burna hinted that when he recorded 'All Eyes On Me", he had already clocked that figure in his bank account.
"Fun fact: By the time I recorded 'All eyes on me' I was dancing around that 3.5 level", he added.
Burna Boy is undoubtedly one of Nigeria's richest musicians.
The artiste has made millions from streaming platforms and playing on some of the biggest international platforms.
Burna Boy also owns a number of properties including fleet of luxury cars.