Britney Lewis, a 25-year-old woman in Ontario has been arrested, in connection with a homicide inside a Laval restaurant earlier this month.
Britney Lewis, 25, of Pickering, Ont., was arrested by Durham Regional Police Friday and will appear in an Ontario courtroom before being transferred to Quebec to face charges of premeditated murder and conspiracy to commit murder in the death of Bernard Cherfan.
Cherfan, 42, was known to have links to organized crime.
He was gunned down June 1 inside La Perle restaurant in Laval's Vimont district around 7:25 p.m. in front of other patrons.
"The investigation in this case is ongoing and more arrests may be made in the near future," the Sûreté du Québec (SQ) said Friday in a news release.
The dinner-time shooting startled several people who were dining at the restaurant at the time of the killing.
"We heard a noise. We thought maybe some dishes fell on the ground or an explosion in the kitchen. They came from the side where the kitchen is. People started to panic and yell and two men started to leave, who were also at the table with the person who was shot," a witness told CTV News following the shooting.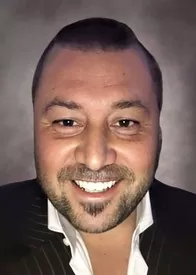 Signs of the shooting were still visible throughout the restaurant Thursday morning as police continued to gather evidence.
A large pool of blood had accumulated on the floor, while dishes and cutlery were caked in blood on a nearby table. There were half-eaten meals across the room and glasses were shattered on the floor.
Curious residents gathered in the parking lot, with many expressing shock and concern over the level of violence that transpired in what they described as a popular, family-friendly restaurant.
Rima Moussa, 29, lives around the corner from the restaurant. She had just put her children to bed Wednesday evening when she noticed the blue and red light from police cruisers through her front windows.
Moussa didn't know what had happened at that point, and was shocked to learn on the news that it was a homicide.
"It's surprising, because it's a really calm neighbourhood. I have two children. They bike outside, we sit out here and eat," she said from her front porch. "I know it won't happen here every day, but you still wonder why this person was here in this restaurant next to your home."
Cherfan had a criminal record and survived a previous attempt on his life, carried out in Laval in 2015.
The firearm used in the failed hit was traced to a factory in LaSalle, where the owner claimed to be manufacturing paintball guns but was actually making semi-automatic pistols.
Cherfan also had clear ties to Frédérick Silva, the hit man recently convicted of four murders in Laval and Montreal and the attempted murder of Montreal Mafia leader Salvatore Scoppa.