Bridge View Resort, located in the Akosombo mountains and surrounded by one of the world's largest lakes, is a luxury vacation spot.
With its secluded surroundings, Bridge View Resort effortlessly blends into the tranquility of Ghana's natural landscape, far from the hustle and bustle of Ghana's urban cities.
The stunning architecture of this resort invites you into a discovery of peace and privacy, surrounded both on land and in the water by an endless array of outdoor adventure opportunities.
Ghlinks.com.gh provides you with all the information you need regarding Bridge View Resort including its location, facilities, packages, and more.
Facilities 
The resort features a tropical ambiance, a rooftop restaurant and bar, and professional service, which make it the ideal destination for themed parties, destination weddings, or corporate events.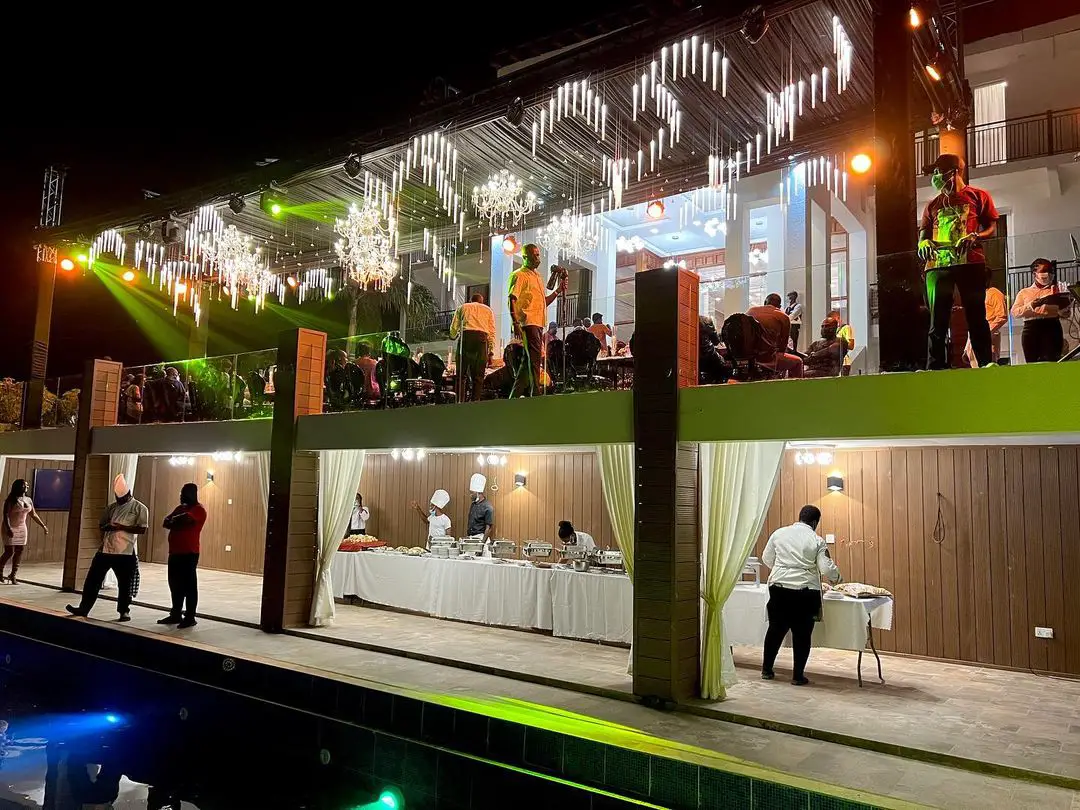 Bridge View Resort offers you the perfect location for an unforgettable wedding celebration with your dearest family and friends.
Couples are assured of a unique event with a stunning landscape and intimate venue arrangement. 
You can rely on their event planners to handle every detail with meticulous attention, regardless of how grand or intimate the event is. 
From the most magical proposals to the happiest rehearsal dinners, all your wishes will be fulfilled by their team of masters of creating unforgettable experiences.
The natural scenery of Lake Volta is considered by many to be one of the most beautiful in the world. 
You will be assigned a wedding event organizer who will assist with aspects such as venue decoration, floral arrangements, seating arrangements, menu creation, photography, and entertainment. 
The resort's three tiers infinity pool overlooks Adomi Bridge and the largest man-made lake in the world, which really makes it stand out.
Location
The Bridge View Resort is situated in the lush peaks of the Akosombo mountains, a small town in the southern part of the Asuogyaman District, in the Eastern Region of Ghana.
 

View this post on Instagram

 
Prices
Rooms
| | |
| --- | --- |
| Type of Room | Cost |
| Standard Suite with Adomi Bridge View | $300 PER NIGHT |
This one-bedroom suite is comfortably designed to ensure a tranquil and memorable experience throughout your stay.
With a private balcony, breathtaking views of the Adomi bridge, rolling hills, and mountain range, you will truly be refreshed during this perfect getaway.
| | |
| --- | --- |
| Type of Room | Cost |
| Executive Suite with Adomi Bridge View | $550 PER NIGHT |
The two-bedroom luxurious suite comes not only with a larger living area but also a grand balcony that brings you closer to our cherished national monument, the Adomi bridge, and the majestic mountain range that frames it.
Combined with the most exquisite decor and well-appointed amenities, you are guaranteed a magical experience.
Private cabanas are available for rent at a rate of 600 Ghc. Each cabana can host six guests.
Private cabanas can also be rented all day for 5000 Ghc and include three platters of finger foods, three bottles of champagne, and one bottle of Grey Goose and Black label.
It can also be rented all day for 3000 Ghc and includes one platter of finger foods, one bottle of champagne, and one bottle of Grey Goose and Black label.
Poolside dining can be reserved with a deposit of 300 Ghc, which will be credited towards your purchase.
Upper terrace seating can also be reserved with a deposit of 350 Ghc, which will be credited towards your purchase.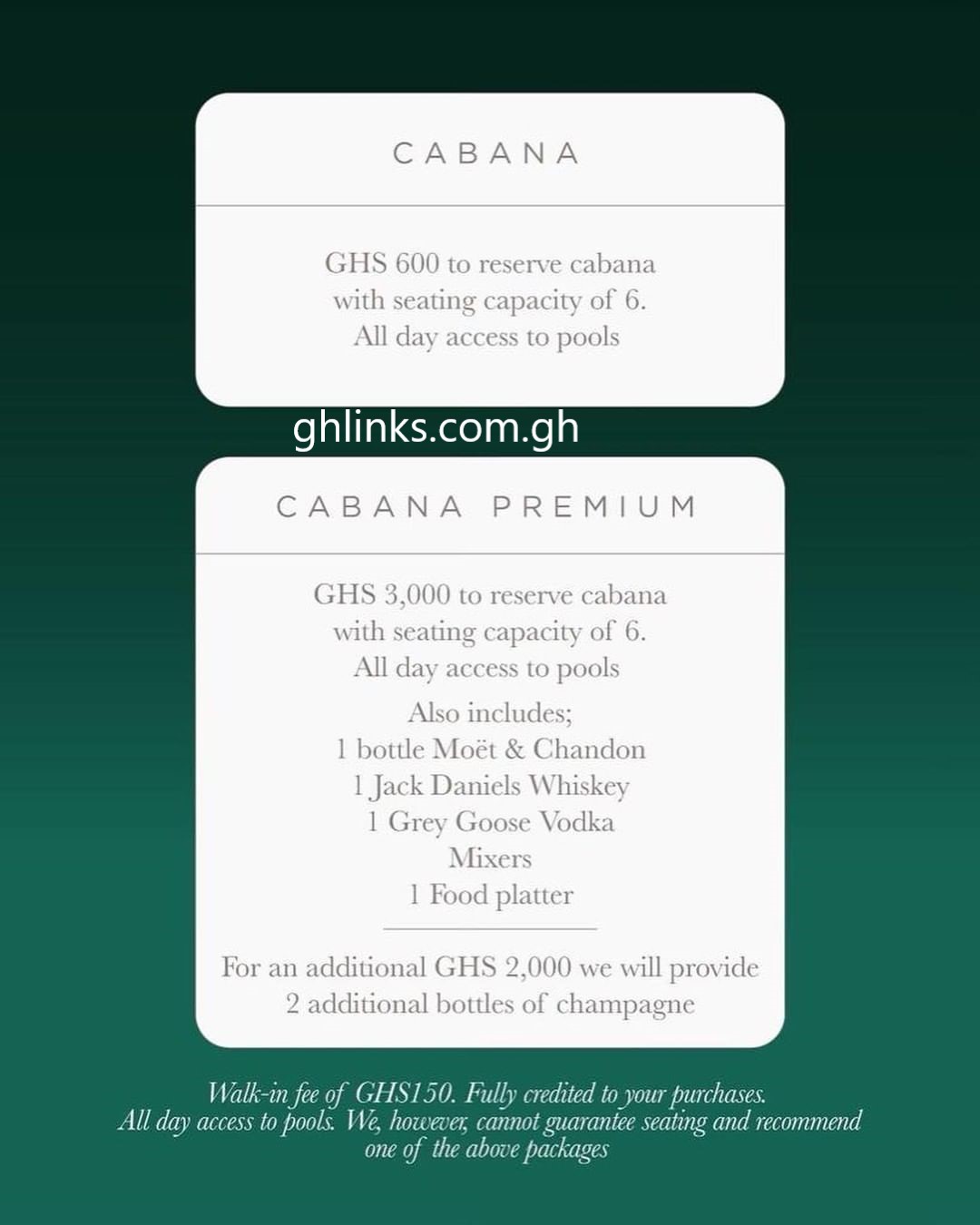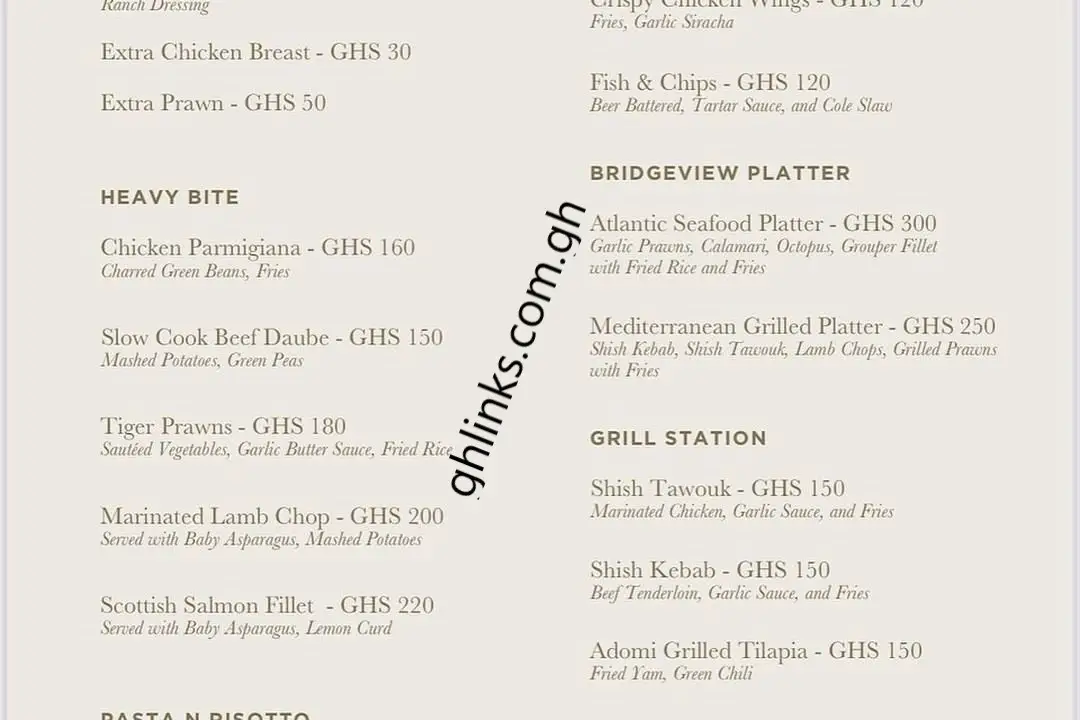 You can download the Food menu PDF file here – Food Menu
Contact Bridgeview Resort Hotel Ghana
Address
123 Akosombo Street
Akosombo, Ghana
Contact Bridgeview Resort Hotel Ghana
+233 57 7008