A 26 year old man identified as Brandon Tsay has been commended for successfully wrestling a pistol away from the shooter who killed 10 people in Monterey Park on Saturday night spoke out about the terrifying ordeal on Sunday.
Brandon Tsay came face-to-face with Huu Can Tran, 72, at a dance hall in Alhambra just minutes after Tran is believed to have shot and killed 10 people at another dance club in nearby Monterey Park.
Mr. Tsay struggled with the gunman and eventually disarmed him, saving countless lives and averting another tragedy.
It was an act that officials roundly praised as heroic.
Tran fled the scene.
Police later surrounded Tran while he sat in a van on Sunday. Authorities say the suspect shot and killed himself in the vehicle.
Police say there are no outstanding suspects in the shooting.
Who is Brandon Tsay?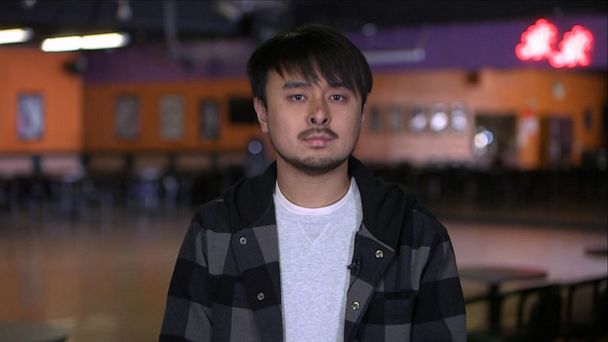 Brandon Tsay is 26-year-old computer coder whose family owns the Lai Lai.
He works part-time at the ticket office at the Lai Lai Ballroom & Studio in Alhambra which was set up by his grandparents.
The name "Lai Lai", meaning "come, come" in Chinese, was chosen by his grandmother.
Tsay's older sister, Brenda, currently runs the business.
In an interview with Good Morning America on Monday, Brandon Tsay described the moment he realized the shooter had come looking to kill.
'It was Chinese New Year's, we were hosting a social dance party. 
'I was in the lobby and it was late into the evening. Most of our customers already left, I was looking into the dance ballroom. 
'This is when I heard the sound of the front door creaking, instantly followed by the sound of metal objects rubbing together. 
'I turned around and saw there was an Asian man holding a gun. My first thought was an Asian man holding a gun. 
'My first thought was, I was going to die here. This is it.' 
He told The New York Times in a separate interview that it was 'primal instinct' to attack him, and that Tran's eyes were 'menacing'.
Tsay had never seen Tran before.
He said he instantly knew he was there to commit a mass shooting, and was scanning the room for targets.