Former Arsenal Defender, Bacary Sagna has it back at his former captain, Cesc Fabregas after the Spaniard questioned the mentality of his teammates back in 2011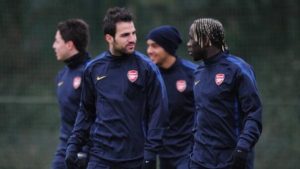 Bacary Sagna and Cesc Fabregas were Arsenal teammates for 4 years from 2007 to 2011 in what was a difficult period for the Gunners as they came close but always fell short in their quest to win the title.
Speaking to goal.com, Sagna said,
"I was surprised to read this," said the 37-year-old. "From him I was surprised because he was supposed to be one of the leaders of the team, he was one of the great prospects and as a leader and a true player, you don't speak like that about your club.
"So I was surprised because he is a nice guy, he's still a nice guy, this doesn't change anything. But I was kind of surprised.
"Arsenal made him so saying that some players were not at his level was a bit harsh because I'm not sure out of all the seasons he was playing at the club, he was always an exemplary player.", he said. 
This interview comes after Cesc Fabregas questioned the hunger and ambition of his then teammates in an interview with a popular arsenal podcast where he stated his dissapoitment in their reaction to defeats for example.
Sagna however defended that assertion in the interview.
"Obviously in the team, we all have different levels. Some will be good physically, others will be good technically, but this is not a reason to speak in that way about other players."
"I don't agree with that statement. It's his opinion and he's right to have an opinion, but we all have good moments and bad moments in our career and I'm not sure he always had great moments with Arsenal.
"Yes, he is a great player, he has amazing quality, but maybe some people were expecting more from him."
At that time the press was talking about him not running enough or tracking back. So other players could have said 'you should be running more or doing more'.
"If you look at Liverpool today, all of them are running. This is a team. And maybe, because we didn't have the right spirit at that time we didn't make this little extra push, or make that little extra run to track players, maybe this is the reason we didn't win."
Sagna 37, last played for Italian outfit Benevento in the Italian Serie A. The club have since been relegated to the second tier of Italian football.