A 14 year old girl identified as Ava Wood and her father, Christopher Wood,  were found shot dead at a home in upstate New York after an apparent murder-suicide, according to authorities.
Ava Wood, was found in a separate room from her father Christopher Wood, in their home in Baldwinsville both with fatal gunshot wounds to the head, his appearing to be self-inflicted.
The young girl's mom had requested a welfare check following the disturbing threat she'd allegedly received the previous night and after learning Ava had not gone to school.
Both dad and daughter were found with gunshot wounds to the head.
Authorities say Christopher's is believed to have been self-inflicted.
The incident is being investigated as a murder-suicide.
What we know about Ava Wood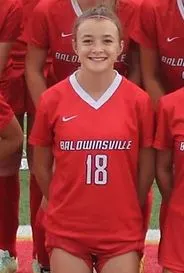 Ava Wood was a ninth-grader at Durgee Junior High School.
She was a high-achieving student-athlete on the honor roll and a member of the Girl's JV Soccer team and the Track and Field team.
Tiffany Stubbmann, Ava's former coach described Ava's tragic death as devastating and unimaginable.
Stubbman says Ava struck the perfect balance.
She was a leader and focused when she needed to, but the 14-year-old was also fun and full of life.
Stubbman was Ava's school counselor in 6th and 7th grade as well.
Ava Wood's family releases statement after her death
The mother of Ava Wood released a statement on behalf of herself and the Wood family.
Heather Wood wants to thank the community for their outpouring love and support during this difficult time.
You can read her statement below.
We want to begin by expressing our gratitude for the outpouring of love that we've received in the last 24 hours—it is the love and support from our community that will sustain us in the coming days.
To Ava's friends, classmates, and teammates: please continue sharing photos and tributes to Ava. She loved each and every one of you, and we are grateful for the love you have shown her and our family.
HEATHER WOOD
Fact Check
We strive for accuracy and fairness.
If you see something that doesn't look right, email us at  [email protected]