The administration of Stonebwoy, Burniton Music Group has responded to claims that he was behind the attack on Kelvynboy at Ashiaman.
Reports state Kelvynboy was welcome to the opening of the Ashaiaman part of Electroland Ghana Limited.
While he was going around checking out the shop, a guy called Gyenyame who is Stonebwoy's former bodyguard stormed the shop with other guys to disrupt the event.
Kelvynboy's Manager told peacefmonline.com that according to Gyenyame Ashiaman belongs to Stonebwoy so they would not allow Kelyvnboy to grace the occasion in Stonebwoy's territory.
They reportedly attacked some of the people present and destroyed electrical gadgets in the shop.
In the meantime, Burniton Music Group has stated in a release that the person in question no longer works with Stonebwoy and that Stonebwoy has not hand in Kelvynboy's attacks.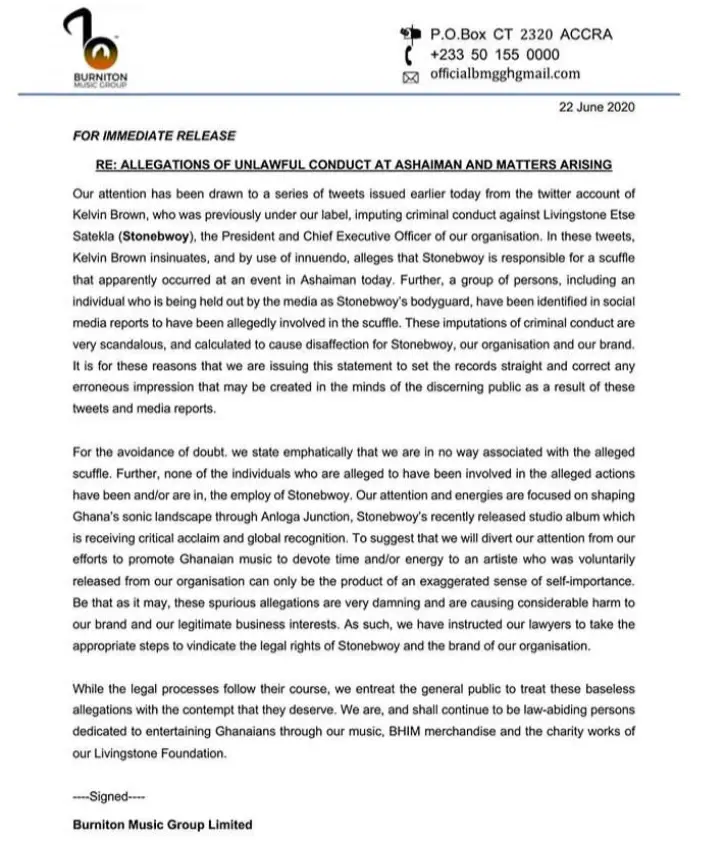 Kelvynboy has not been on good terms with Stonebwoy since the two fell out.
Since Kelvynboy left Stonebwoy's record label, there have been statements from both artistes suggesting that there is bad blood between them.
While Kelvynboy had said he footed the bills of a lot of his music projects, Stonebwoy is also heard to have alluded that Kelvynboy was not patient to go through the grooming process.
Meanwhile, a lot of people on social media have jumped to the defense of Stonebwoy, saying he would not contract anybody to attack Kelvynboy.