Ex-NFL player,  Antonio Tavaris Brown continues to make headlines for all the wrong reasons.
On Saturday morning, a video of Brown exposing himself to guests at a hotel surfaced on social media.
This incident apparently took place on May 14 at the Armani Hotel Dubai.
In the video, Brown is seen flashing his bare buttocks in a woman's face -she tried to laugh it off at first, but by the end of the video you can see her swimming away from him.
Eyewitnesses said Brown — whose previous off-the-field antics have gotten him into hot water with the league and the law and who remains an NFL free agent after bizarrely quitting on the Tampa Bay Buccaneers in the middle of a game last season — had just met the woman and she was fuming after the encounter.
In one video, Brown — who is apparently nude aside from gold chains around his neck — is huddled at the edge of the pool with the woman.
He then plants both hands on the pool's deck to lift himself out of the water twice – sticking his butt in the woman's face both times.
She turns away, laughing off the apparent neutral zone infractions, as other men in the pool begin egging on Brown, yelling "Yeah!" "Another one!" and "AB!"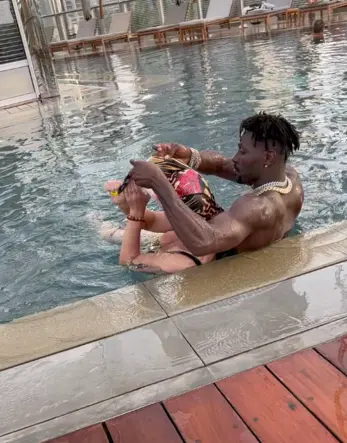 In the second video, Brown appears to startle the woman when he tries to tie a head scarf around her head.
She's able to snap off the scarf, which witnesses said he snatched from another swimmer.
Brown then lifts the woman up and tosses her head first into the water like he was spiking a football, the shocking video shows.
The woman rises out the water, wipes her eyes, and swims to the other side of the pool — away from Brown.
One man quips, "He's waterboarding her!" while another sarcastically responds, "He's giving her the long board!"
Watch Antonio Brown video below

Brown was asked to leave the hotel shortly after the incident, according to a hotel staffer who requested anonymity.
The hotel had also received earlier complaints from other guests about Brown's antics.