A 22-year-old woman who died waiting in her car in Buffalo, New York during the historic winter storm has been identified as Anndel Taylor.
Anndel Taylor lost her life over the weekend after her car was stranded in the snow Friday afternoon while driving home from work.
What happened?
The day before Taylor's death, she sent her family a final video from inside her car, from what her mother believes was carbon monoxide poisoning rather than hypothermia, although a cause of death has not yet been given.
It showed her car stuck in snow while a frightening wind howled outside just after midnight on Saturday.
In a family group chat, Taylor told her family members she was stuck in the snow while driving home from work and the precipitation was coming down fast.
The 16 second video showed Taylor rolling down the snow-covered window to display a wintry landscape.
'She was telling my sister that she was scared,' said Shawnequa Brown, Taylor's sister.
The camera pans out over the scene which features several feet of snow under the car and another stranded vehicle just across the way.
All the while the snow and cold whips through the air in the otherwise silence of the night.
Who was Anndel Taylor?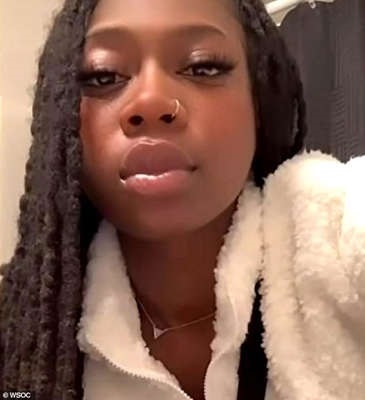 Anndel Taylor, 22 , was born in Buffalo but raised in Charlotte, North Carolina, moved back to New York earlier this year to take care of her father.
Taylor's Facebook page says she was single and lived in Buffalo, New York.
Taylor would have turned 23 in January.