CJ Harris, one of the stars of American Idol who reached the top six in 2014 has passed away.
He was 31.
CJ Harris Cause of death
A family member told TMZ that CJ suffered an apparent heart attack Sunday night in Jasper, Alabama
He was taken to a local hospital by ambulance, but didn't make it.
Who was CJ Harris?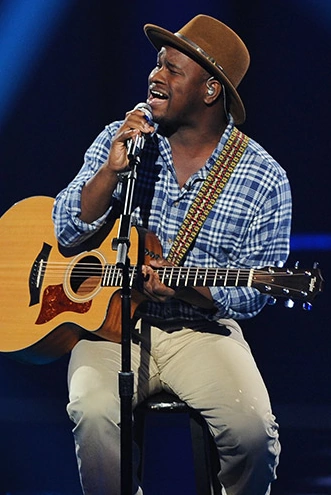 C.J. Harris (born January 28, 1991) was a contestant on Season 13 of American Idol.
CJ auditioned in Tuscaloosa at an American Idol 2014 auditions bus tour stop.
He was one of three singers who made it through to the next round of auditions all using the same "lucky" guitar.
The guitar belonged to contestant and friend Dexter Roberts, who loaned it to both CJ and fellow hopeful Gerrett Nichols at the auditions.
On his Facebook profile, CJ states he is a graduate of Walker High School in Jasper, Alabama and has attended Bevill State Community College in Hamilton, AL.
Although he currently resides in Jasper, he says his hometown is actually the small community of Dora, AL.
We also note from his Facebook feed that he  is "in a relationship" with a lovely young lady by the name of Britney Slappey, with whom he has several cute photos posted.
In the bio for his website, CJ Harris describes himself as a "singer/songwriter" who has been playing the guitar for over seven years and has "dedicated my life to making music and I'm glad I made that decision."
Interestingly, CJ Harris also says he "performed on American Idol in Nashville, TN." We are not sure he what he is referencing there, but perhaps he is talking about auditioning for the show in a previous season.
We can't find any past footage of him being on the show, but that doesn't mean it's not out there somewhere.