A 61 year old pilot identified as Aaron Hogue was killed when the jet he was racing in the Reno Air Races on Sunday crashed.
Shocking video the terrifying moment show a jet plunged into the ground and erupted into a huge ball of fire, killing the pilot, Aaron Hogue.
The video posted to Twitter Sunday starts off with two planes racing across the Reno mountains when one of them gets too low and crashes into a field.
It quickly erupted into a ball of fire as it skidded across the grassy knoll sending flames flying in its wake as thousands of fans at the event watched in horror and many others watched via livestream.
The plane bounced several times as pieces of the plane seemed to fall off.
The Reno Air Racing Association then suspended the event.
"During the jet gold race on the third lap there was a fatal incident at outer pylon 5 today," the association said. "All other pilots landed safely and race operations for 2022 have been suspended. We express our deepest sympathies to the pilot's family and friends as well as racers and race fans who make up our September family."
Who was Aaron Hogue?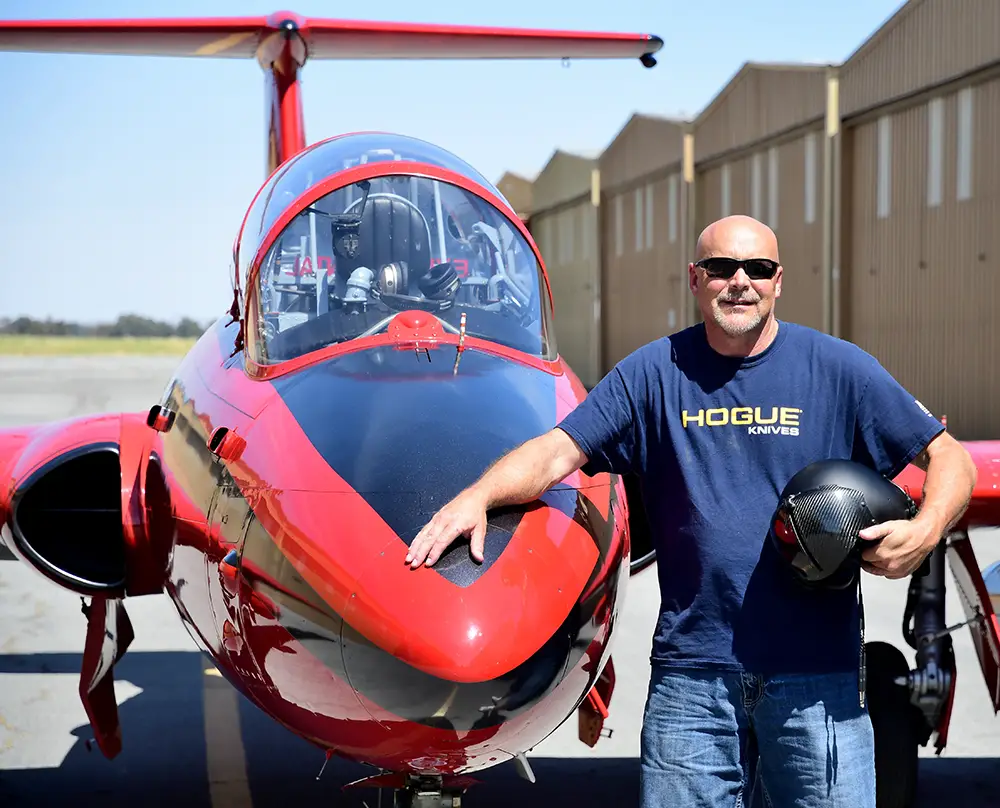 Aaron Hogue was a 61 year old American pilot and the Owner and President of Hogue, Inc. Hogue manufactures several product lines, primarily firearm accessories and knives.
He had always been into planes, according to his biography on RacingJets.com, which says: 'Aaron has been into all things motorized since [he was] a young boy, anything aviation was always high on the list!
Interestingly, Aaron built a plastic scale model of an L-29 when only 8 years old.
Years followed with model rockets, go carts, motorcycles, cars, boats, etc.
Aaron took some introductory flights at 16 and finally got his ticket in 1987 after spending time in the Navy as an Electronics Technician.
Over the years, Aaron made the step up to higher performing aircraft culminating a few years ago with the L-29 Super Delfin.
The Air races are a natural evolution for Aaron. As a Private IFR pilot, Aaron has accumulated 2300+ hours in several aircraft and has an Aerobatic Proficiency Certificate from Shawn Tuckers Tutima Academy.
Fact Check
We strive for accuracy and fairness.
If you see something that doesn't look right, email us at  [email protected]